Minecraft Server Hosting for more than 10 years!
DDoS Protected
Up to 480Gb/sec
Customer Care
Experts at your service!
Performances
High Quality Hardware!
Service at just the right price
Our core mission has always been to make our services accessible to everyone. Our vision is clear and straightforward: to provide you with the best services at the most equitable price possible.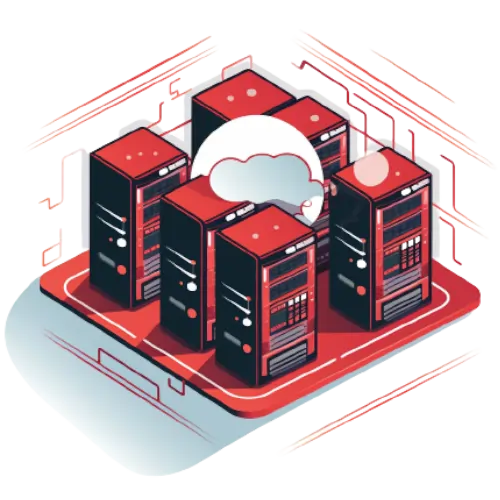 Optimizing for the price
In our pursuit of minimizing hosting costs, we have chosen an end-to-end infrastructure that we fully control. This infrastructure evolves in real-time, precisely adjusting to the needs of our users. This choice enables us to manage our infrastructure based on actual demand, giving us complete control over our production costs.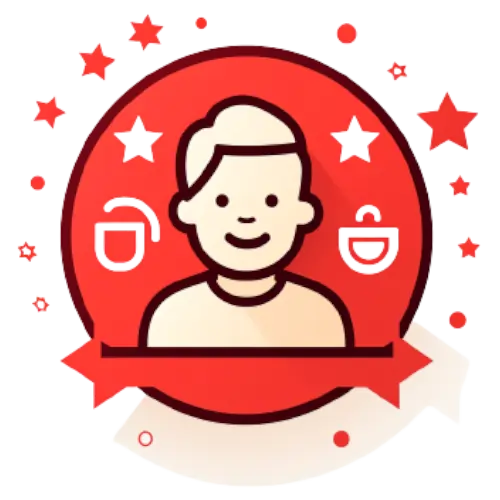 Commitment rewarded
We reward the commitment and loyalty of our customers by offering them the opportunity to benefit from significant volume discounts based on the duration of their commitment. Indeed, longer-term commitments allow us to better anticipate the management of our infrastructure and human resources. That's why it's entirely natural for us to reward our users who have placed their trust in us by offering them more attractive rates.
We host them
We have own their trust by innovating every single day with great passion.
And we keep the same mentality, to provide you the same best quality of service.
Reliable and secure hosting
A resilient, controlled infrastructure to guarantee optimum availability.

We have made the strategic decision to design and host our own infrastructure internally. The architecture of our servers has been meticulously crafted by our teams to meet the specific requirements of each of our offerings.

Each of our servers is carefully assembled and then subjected to multiple phases of exhaustive testing to ensure their optimal operation. Once this phase is validated, our servers are deployed in our dedicated facilities, within our own data cabinets located in a Tier III level data center, compliant with rigorous environmental standards and the strictest security criteria.

Once in production, we deploy a significant number of monitoring probes to ensure the proper functioning of all servers in our infrastructure. This comprehensive view allows us to take proactive actions, intervening even before incidents occur, to ensure you receive optimal service quality.

With our experience and longevity, we have developed a unique resource management algorithm to distribute the load of our servers across the entire infrastructure. It is this technology that allows us to guarantee the resources we advertise across all our offerings, ensuring you have all the power you need at any given moment.
few numbers
Unlike most of other hosting companies, we own our infrastructures.
We select, assemble and master every single aspect of its components.

732 513
happy customers
5 222
CPU cores

34 282 GB
RAM Memory
Manage your servers easily
With our specially developed tools to make it as easy as possible to use your servers, managing your servers has never been easier.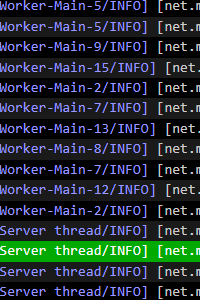 Console: Access your logs and send commands
Access your server logs in real-time directly from your administration panel and send commands directly to your server.

Whether it's for monitoring your server's activity, communicating with users, or executing commands, our console meets all your needs.

The console allows you to see what's happening on your server, and we highlight error and warning messages to provide you with better visibility when you need to make advanced adjustments.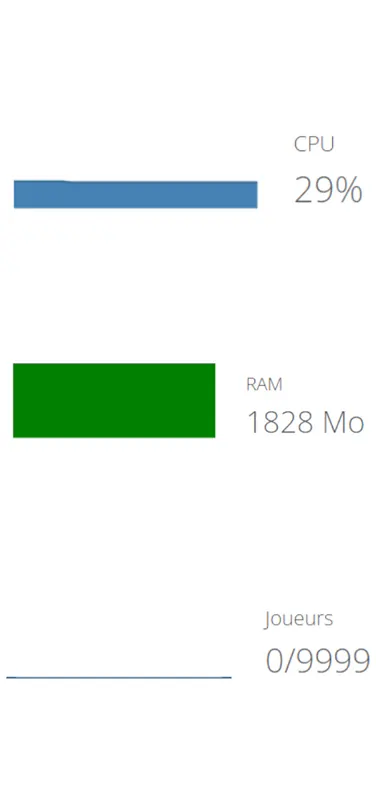 Server resource monitoring
Maintain a constant and real-time view of your server's resource consumption, enabling you to better manage your infrastructure.

We provide you with critical information tailored to the type of server you have chosen to host. This encompasses data such as CPU (Central Processing Unit) usage, RAM (Random Access Memory) usage, and the number of currently connected users. These data points are updated instantly, providing complete responsiveness when you need to check them.

For more advanced users, the option to retrieve this information via an API is available. This option allows you to integrate this data directly into your website, particularly useful for our Minecraft products.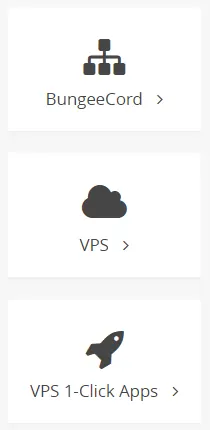 Many resources to help you
We are here to support you throughout your journey of using our services. Our team of specialists is at your disposal to address all your inquiries, allowing you to fully leverage your servers according to your preferences.

Whether it's in the context of configuring your servers, resolving technical issues, or providing optimization advice, you can rely on our experience to guide and assist you. Our technical support, known for its reliability and expertise, is accessible through a ticket system from your client area, available at all times.

In addition to our direct support, we have developed a comprehensive and continually updated knowledge base, comprising dozens of articles on the use of our services. You are free to browse our FAQs to find answers to the most common questions.

These documents are written in an accessible manner and are easy to put into practice. However, if you cannot find the answer to your question, do not hesitate to get in touch with our dedicated support team, ready to provide you with all the assistance you need.
Latest news
Stay informed of the latest developments about our hosting services